How We Re-Create The Office Vibe — v1.0 Changelog
Mohamad Rajabi • July 27, 2021
Working at an office is fun, energizing and lively. On top of that, you can ask your questions easily and move fast. Teammates chat in the hallways, kitchen, or in the lobby after work, thus there's less need for scheduled meetings.
Already we're using Noor instead of going to office everyday because we can:
Casually voice chat while working
Nudge teammates to see if they want to play a game
Pair program spontaneously for 30-minute and learn a ton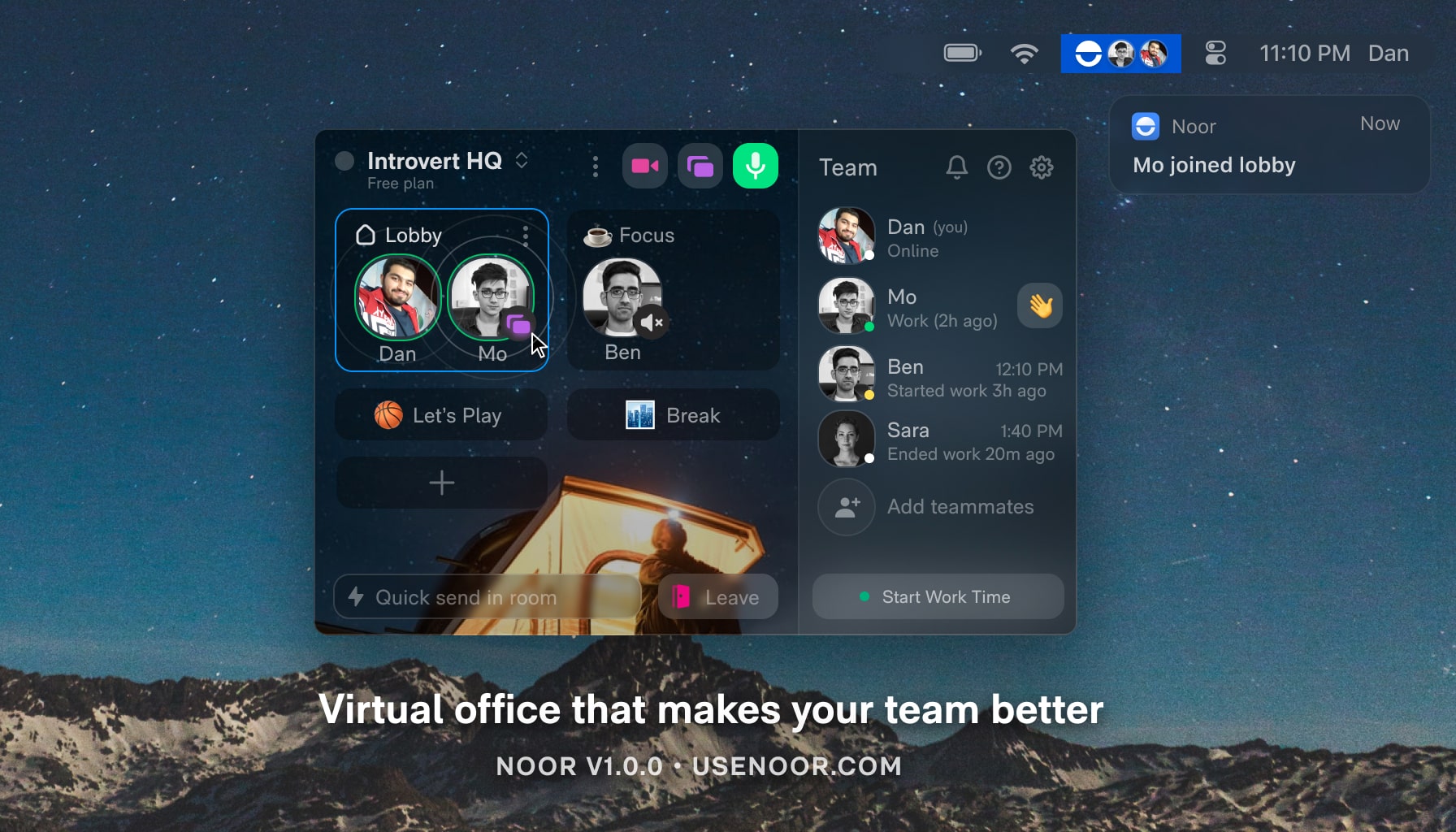 To make it even better, we've added 5 features in an all-new UI that marks our v1.0.0 release:
👩‍💻 Work-time status
👋 Catch missed nudges
🌆 Room backgrounds
🌍 See teammates' local time:
🔗 Quick link sharing
Work-time Status
When you become online, people won't know if you opened your laptop to watch a movie, or you're starting your energizing work day.
Our users joined voice chat with their mic muted to signal they're in work-time. But that's not ideal, as you might not want to join the chat right away. But you're cool if people need you!
Another great feature of this is you can end or restart it at anytime. For example, I re-enabled work time after lunch again to signal I'm back. After you're done with your day and go off, Noor will mark your work-time as ended automatically.
Nudge
We use nudge to invite teammates to join our room. For example, my teammate Dan nudges me when he needs my opinion on his code design decisions.
Sure he could write up a 400 word long message and wait for my 600 word long explanation, and the back and forth. But we prefer to jump into voice chat, discuss his decisions and mine and ship it after 10 minutes. (or if took longer, we can stay in the voice chat and play a game!)
What if I was grabbing coffee and missed it? Now I can catch up to nudges I've missed and I'll nudge them back! Feels much better.
Room Wallpapers
In real life, walking in the kitchen is different from the office hallway. Why our digital office should be all one color?
Now you can assign shiny wallpapers to each room. When you enter, wallpaper covers the whole app to match the vibe. This is our favorite feature of this release 🧡
See teammates local time in the sidebar
It can be challenging to chat with a team that's scattered over 6 timezones. It's very different if it's 8am, or 8pm when you need them! So we now sync your teammates current time zone and even if they're travelling we show correct local time besides their name.
You'll see the time show up when you add a friend that's in a different timezone than you. ✨
Quick link share
When a coworker tells you "Send me the Figma/Notion/etc link", you have to look for a chat app, find this person and send the link, then they have to click the notification, open the chat app and after all that, open the link.
Now it's way quicker! Type, hit Enter, and as soon as they click the notification It opens the link.
Previously: Super Screen-Share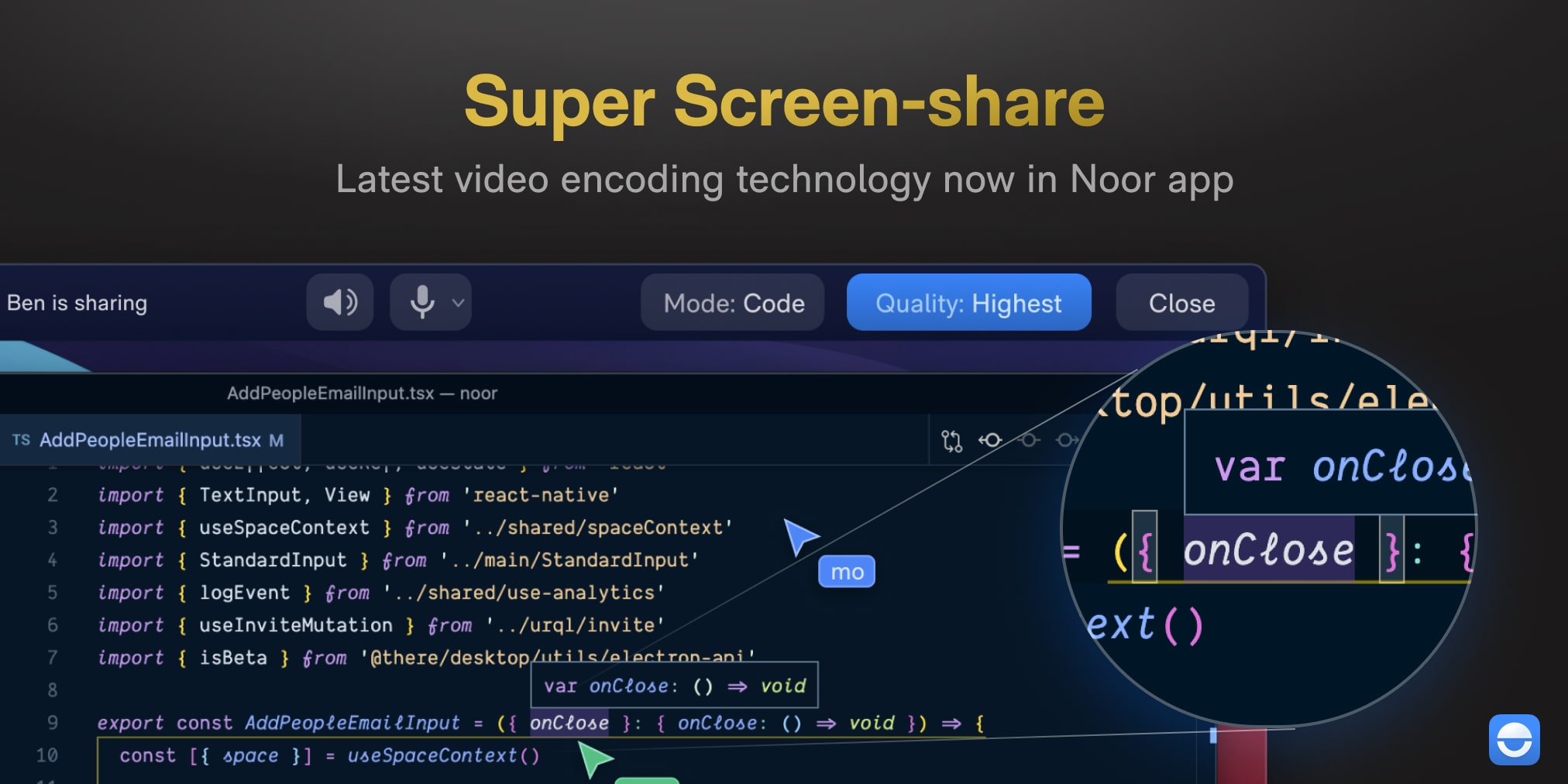 With our previous update, we've integrated the cutting edge video codec for faster, sharper and most efficient screen-sharing. I'm proud we're one of the very first to do this, before any other collaborative screen-sharing app.
This also means our video chat uses up to %50 less bandwidth now with the same smooth quality.
What's coming?
I'm excited for the upcoming stuff which also include our Windows app coming out later this week, quick image and file sharing, among other cool features. 🚀
You can also join us on Slack to send feature requests.